The Car Guy Holiday Gift Guide
2:21:00 PM
The Gentleman Racer team has taken the time to compile a list of great gifts any car guy would love to find in his stocking or under the tree. So lady's if you can't figure out what to get that car guy on your list check out some of the ideas below....

Happy Holidays,

TheGentlemanRacer.com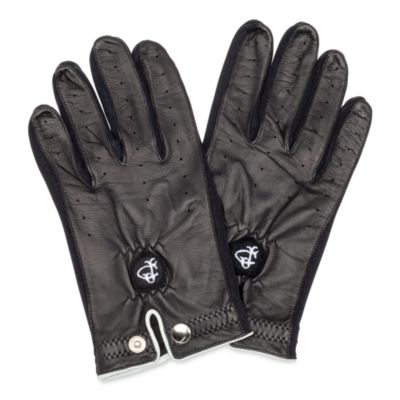 Jim Clark Leather Driving Gloves

Over 40 years after his tragic death, Jim Clark is still recognized as one of the greatest drivers of all time. It was his delicate fingertip control, separated only by his gloves that made him a fierce competitor behind the wheel. Special gloves were made to Jim Clark's specifications back in the mid 60s and are perhaps the best fitting gloves ever made. With the original patterns and manufacturer long gone, I've recreated copies from the original gloves I have in my collection. The leather is thin, yet durable, capable of withstanding the stress of high performance driving, while delivering all of the sensitivity to your fingertips with every turn of the wheel. Ventilation holes keep your hands cool while black elastic ribbing assures a great fit. Clark's own "
JC
" monogram is embroidered on the top of the glove and a nice pearl-style snap secures at the wrist. The vintage inset photo above shows Clark pulling these gloves off after completing a race. Sewn exclusively for us by a master glove maker in a 250 year-old farm house near London, England. Available in S, M, L, and XL. A limited number were made so order now as I suspect these will sell out by Christmas. Makes a heirloom gift for someone special. A
Griot's
Garage exclusive.$89.99
www.griotsgarage.com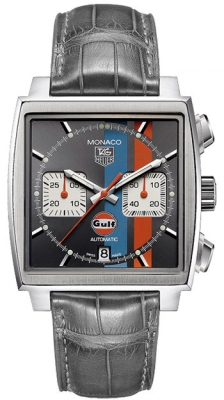 The now out of production and very hard to find Gulf Monaco by Tag
Heuer
is available from Prestige Time in limited quantities priced at $5,000
www.prestigetime.com
Morgan's & Phillip's new line launches officially in 2010, however, they are offering special
pre
released sales in limited quantities of "1st edition" shirts for the holidays. Many different styles all automotive or motorcycle related these shirts are top quality and made in the USA. Prices starting at $35.00
www.morgansandphillips.com
Carroll Shelby luggage sets are designed using the latest technology. Our luggage sets include both expandable and hard molded shells covered with ballistic nylon and lined with soft Polyester broadcloth. Our unique design and innovative materials deliver a set of luggage pieces that are lighter than typical wheeled bags and offer more capacity. We have additional features such as easy access pockets, inside and outside zip cosmetic pockets, expandable ends, broadcloth utility bag for laundry, adjustable shoulder straps our unique Mag style wheels and telescopic handle with
Carroll Shelby
signature. $299 set
www.a2zracinggear.com
Cornhusker
Sign And Manufacturing Co. has been in the business of manufacturing & distributing quality neon signs and clocks for over twelve years. They also offer soda machines, gas pumps, and commercial neon signage as well. Contact
Cornhusker
for Pricing as they have countless custom options.
www.cornhuskersign.com
This fully functional retro pedal car is perfect for decorating the home or office of your favorite car guy, and if you have a little car guy in your life this could be the car that starts it all for them.
No cheap plastic, these all metal pedal cars feature great details, and there are several models to choose from. Priced from $199.00
www.pedalcar.com
GoPro

's

HD

Motorsports

HERO is the world's highest performance 1080p

HD

on-board video and still photo camera. Professional quality 1080p, 960p, and 720p

HD

resolutions record at 30 frames per second (60 fps in 720p). The

HD

Motorsports

HERO easily mounts to any helmet, motorcycle, ATV, car, plane, jet ski, boat, snowmobile or other vehicle. The camera's quick-release mounting design makes it easy to re-position the camera around your vehicle for professional quality

HD

video from several angles. $299.99
www.goprocamera.com




Transform your home, office, or garage with a high performance wall mural from Garage Scenes. With numerous Gas Stations,

Cruisin

, and Vintage Racing "scenes", you're sure to find the perfect gift for any automotive enthusiast. Printed on a single piece of premium vinyl for the ultimate in durability, quality, and realism; no car guy or gal should be without one of these incredible products. Now in three standard sizes; SS Series (6ft x 4ft), CS Series (9.5ft wide), and LS Series (12ft x 8ft). With Prices starting at just $199