Memories of York U.S. 30 Dragway draw people back for Musclecar Madness
11:20:00 AM
Nearly 40 years after Wally Bell made his first trip south from the Binghamton, N.Y., area, to central Pennsylvania, the retired racer remembers York U.S. 30 Dragway in Thomasville like he was there last week.
"I started off at a young age, racing in central New York, and I always heard people talking about York, Pa.," Bell said. "I finally came down in 1961, and when I pulled into the track, my reaction was just, 'Wow!' It was a huge place.
"Some of the fastest cars and best drivers in the world were there. And I got my butt handed to me, but I was very impressed with the professionalism of the track staff and the fans. York always had amazing fans."
Even though York U.S. 30 Dragway -- one of the premier drag racing facilities in the nation in its heyday -- has been closed since 1979, its memory still lures people back each summer.
That explains why the 68-year-old Bell, and many other racing legends from the 1960s and 70s, will be back in York County on Friday and Saturday at the York Expo Center for the Ninth Annual York Reunion, more commonly known as Musclecar Madness.
"The word special is overused, but York U.S. 30 was a special place. I think a large part of it was the people," Bell said. "We were still young guys at the time, and it was great being together.
"Now that we're not so young anymore, it's nice to reach back to the good times. Like drinking a wine that was so good when you were 35. In our world, York was that wine. And that's why we like coming back and getting together each year. It takes us back to a special place in our lives."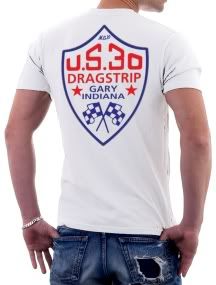 Get Your Own U.S. 30 Vintage Inspired Shirt at M&P

In addition to Bell, funny car champion Bruce Larson, Bill "Grumpy" Jenkins and Carol "Bunny" Burkett are scheduled to appear at the show.
"In the past we've been drawing somewhere between 6,000 and 8,000 people for the two-day event," said Darwin Doll, a former York U.S. 30 Dragway employee who serves as the promoter for Musclecar Madness. "We've held pretty steady with the crowds.
"Last year we thought with the state of the economy it would affect us and keep the numbers down, but we held our own. I guess that was an accomplishment in and of itself."
Doll, a Springettsbury Township resident, said the show will once again offer a display of 150 legendary race cars and collector muscle cars. This year's theme is a "Salute to Chevrolet," and it will feature the 1955 Chevy from the movie "Two Lane Blacktop," as well as "Jungle" Jim Lieberman's Camaro funny car and pro stock Vega.
Other Chevy legends such as Jenkins, Bell, Ed Hedrick, Larry Lombardo and Jere Stahl are scheduled to appear.
The annual "Cruisin' Into Summer" show will bring together more than 500 cars of all vintages to be held on the West Plaza of the York Expo Center, from 1-8 p.m. on Friday and 10 a.m. to 5 p.m. on Saturday.
"Originally, my motive for coming was to reconnect with a more innocent time. Those two days at the Fairgrounds are little like stepping back in time," Bell said. "It's just like going to a high school reunion. You see people you haven't seen in years and have a great time when you're back together again.
"Sometimes you get invited to things and your wife is like, 'OK, honey. You can go. I'm going to the mall.' Not this event. I never have a problem asking my wife, Bev, if she wants to go to York. She looks forward to it and enjoys the company of the people there as much as I do."
And it's all because of the memories evoked by the York U.S. 30 Dragway's reputation.
"I'm amazed how there's still a connection after all these years," Doll said. "We're talking about a track that's been closed for 31 years, but you could go to California, Arizona, and all over the country. You mention York U.S. 30, and people know what you're talking about.
"People remember that we had the largest one-day drag race in 1965, the SuperStock Nationals. It's still known as the Woodstock of drag racing. And that heritage is what we're gathering together to celebrate."
It's a time Wally Bell is more than happy to celebrate.
The former insurance executive spent nearly 38 years behind the wheel of various dragsters before retiring in 2001. Today he lives in Fredericksburg, Va., and hosts an online talk show about drag racing. He loves his present life, but can't wait to return to York.
"Back in the day, I had a 409 Chevy, the Beach Boys were blasting on the radio, and I felt bad for all the other guys there," Bell said of his York U.S. 30 experiences. "It was sort of like, 'I don't know what you're doing here. I'm gonna win.'
"York was THE place to race back then. Now, we get together to remember the great times we all had there."